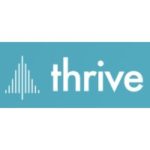 Thrive
With exciting plans for further expansion this year, we are currently looking to grow our Business Development team. Our Business Development Managers are adaptable, sales-driven professionals with high standards of performance. Within the team, you'll find a broad mix of entrepreneurial minds, all of whom are dedicated to growing the business and driving revenue.
Or goal is to become the world's preferred psychometric assessment platform in the SME market, and this position is a critical part of that vision.
RESPONSIBILITIES
New prospect lead generation.
Promoting Thrive's SaaS psychometric hiring assessments through outbound email campaigns, sales calls, social outreach and networking.
Engaging with prospects and articulating our product in an effective manner.
Conducting discovery calls and product demonstrations with key stakeholders.
Generating and managing a busy and full-cycle sales pipeline, and recording your sales activity in our CRM.
Working in conjunction with our team of SDRs as well as senior management.
Tracking key metrics to ensure your targets are consistently met.
REQUIREMENTS
Autonomous, adaptable, collaborative, and strategic.
The right candidate will thrive in a startup environment in a high-innovation sector, working with the whole team to achieve success in an ever-changing landscape.
Prior experience in a fast-paced SaaS sales role.
Excellent communication, interpersonal, and organisational skills. You should be a great speaker, writer and listener.
A passion for rapidly scaling technology.
Flexibility. Things change around here. FAST.
ON OFFER
Base salary of £30,000 – £35,000, depending on experience.
Further on-target-earnings potential in commission.
Great experience within an early-stage SaaS business looking to scale quickly, with fantastic opportunities for rapid career progression.
Flexible working in an exciting and dynamic startup environment.
Having launched in June 2020, Thrive is growing fast!
We are a well-funded and profitable startup SaaS business providing SMEs with world-leading psychometric hiring assessments that allow businesses to save time and money by hiring the right candidates for their roles, first time.
Our assessments are powered by Aon, who for 30 years have developed cutting-edge technology focussed on improving recruitment and talent development practices globally. Our technology is already utilised and trusted by international powerhouses such as O2, Volkswagen, Burger King, Vodafone, Sunglasses Hut, KPMG and Deloitte.
Thrive now unlocks that same enterprise quality technology and engineers it into a beautifully packaged self-service product dedicated to SMEs. Last year, we delivered 30m assessments to 12m candidates, across 90 countries, in 40 different languages.