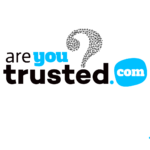 Website AreYouTrusted.com®
AreYouTrusted.com® is where brands review influencers and influencers review brands. We're Glassdoor + Trustpilot for the influencer marketing world.
While AreYouTrusted.com® is unashamedly nascent, we've made good progress to date, and have plans for reviews in other sectors beyond influencers and brands.
We're looking to build the founding team in multiple areas (management, marketing, business development, product), so if AreYouTrusted.com® sounds interesting, please get in touch.
While the roles are remote, you must be UK-based, please.