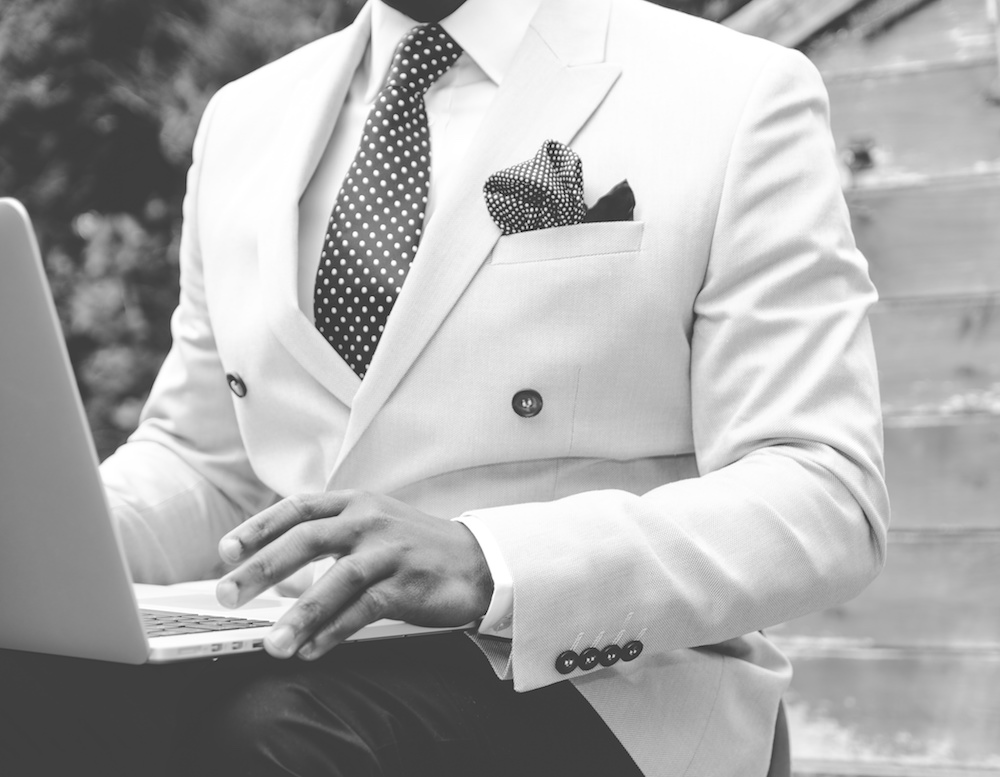 Since I work from home, I can wear whatever I like. Usually that means a T-shirt, hoodie, and track pants in winter, and a T-shirt and shorts in summer. No shoes.
It's a far cry from when I worked in public, with other people around. Years ago when I worked in retail, I served a mystery shopper once (if you haven't heard of those, they're ordinary people who get paid a fee to visit a store and report on the customer service, store cleanliness, etc.) and the report mentioned that I "looked fashionable." Having been fashion-challenged all my life, I was quite impressed that the shopper took the time to comment on my style. You can tell, because I just pulled out that anecdote after almost ten years.
But these days I figure, why bother? I want to be comfortable, and nobody sees me during the workday anyway. In fact, even when I leave the house I only change my track pants to jeans—the T-shirt and hoodie don't move.
You can probably tell by my habits that I don't think it matters too much what I wear. Sure, it's nice to get a compliment from a customer (okay, very nice!), but there's no useful reason to dress well—right?
Well that's what I thought until I stumbled across some research that says I'm wrong. Very wrong.
It turns out what you wear can affect many parts of your life—from how you describe yourself to how others see you when they make a judgement at first sight. Knowing that your clothing affects you doesn't mean you have to dress up, but after reading this research I can't recommend dressing down in too many circumstances.
What you wear affects who will help you
Imagine someone asks you for some change to make a phone call. They're wearing a bespoke suit and tie, their shoes are shined, their hair is impeccable. You have plenty of change in your pocket. Would you hand it over?
Now imagine someone else asks you the same thing—they need change for a phone call. Their hair is matted and dirty, their feet are bare, their clothes are tattered and soiled. Would you give them the money?
The theory goes that people who are well-dressed will always be helped more than those who aren't. But one study found this isn't always the case.
The study dressed some women well and some poorly, and had them request help from strangers as in the example above—both at an airport and at a bus station. The study found the well-dressed woman was helped more often in the airport, but the poorly dressed woman was helped more often in the bus station.
The researchers believe this is due to the fact that we prefer people who are more similar to us. At the airport, the well-dressed woman fit in better with other travellers, and was thus more likely to be offered help. But at the bus station, the poorly dressed women more closely matched those she was asking for help, and thus was helped more often.
So dressing for the occasion doesn't always mean dressing well—it depends on who's around you. If you want to make friends at work, you're better off dressing as they do than trying extra hard to be well-dressed.
What you wear affects how others judge you
It's sad that we judge others based on their appearance, but it's true. We can see in the previous example that just based on clothing choices, we make snap judgements about whether or not we should help someone in need.
Two more studies explored how we judge people's characteristics based on their clothing choices. In the first study, participants were shown a picture of a man for three seconds. The man's face was pixillated so they couldn't be swayed by his facial expression. The man they saw was either wearing a bespoke suit tailored to fit him, or a very similar suit (same fabric, same colour) off the shelf. The differences in the two suits were tiny—the bespoke suit fit him ever so slightly better.
But when participants were asked to rate the man's characteristics based on seeing him in the suit for just three seconds, those who saw him in the bespoke suit rated him as being more confident, more flexible, and even being a higher earner.
After just three seconds! That's how quickly we make snap judgements about people.
The second study used women in the photos, and showed them to participants for up to five seconds. In one of the photos the woman was wearing a slightly shorter skirt (just above the knee, rather than below the knee), and had one button open on her blouse. Both women were dressed conservatively, but one was just a little less so.
When participants were shown the photos, they were either told the woman in the photo was a senior manager or a receptionist. They were then asked to rate the women based on six characteristics: intelligence, confidence, trustworthiness, responsibility, authority, and organisation.
When participants were told the woman in the picture was a receptionist, what she wore made no difference to her ratings. More or less conservative, the receptionist garnered similar ratings in the six criteria.
But when the woman in the photo was a senior manager, she fared worse on those six ratings when participants saw the slightly-less-conservative photo—with one button open and a skirt above the knee.
It seems that in some positions, what you wear makes a big difference to how people judge your skills and characteristics at first glance.
What you wear affects your thoughts
You might want to condemn others for being swayed by your clothes, but research shows what you're wearing can change how you think, too.
People who are dressed more formally than those around them tend to think more creatively, according to one study. The comparison is key: if you're dressed formally but see yourself as no more dressed up than others in the room, your thinking probably won't change.
If you're dressed down compared to those around you, your thinking will tend to be more concrete, whereas being dressed up opens up abstract thinking, which leads to creative ideas.
The exact reason for the correlation (no causation has been proven) isn't known yet, but researchers believe it may be due to feeling more confident. If you're dressed well and you see that other didn't put in so much effort, you may feel a tad better about yourself.
In turn, this confidence may lead to feeling powerful, and previous research has shown a connection between feeling powerful and abstract thinking.
It's not just your problem-solving skills that are affected, though, the way you think about yourself can change according to your clothes. If you're formally dressed, for instance, you're more likely to describe yourself as rational and competent.
Wearing casual clothes, on the other hand, leads us to describe ourselves as friendly and laid-back.
You can even borrow someone else's clothes to change your thinking. One study found when participants wore a white coat they believed belonged to a doctor, they became more attentive. The effect didn't exist when they wore the same white coat, but believed it belonged to a painter.
---
Since most of these studies simply show correlations, not causation, you may not want to rush out and change your wardrobe immediately.
However, if you are concerned with how you think about yourself and how others perceive you in the workplace, keep in mind this research that shows what you wear really does matter.