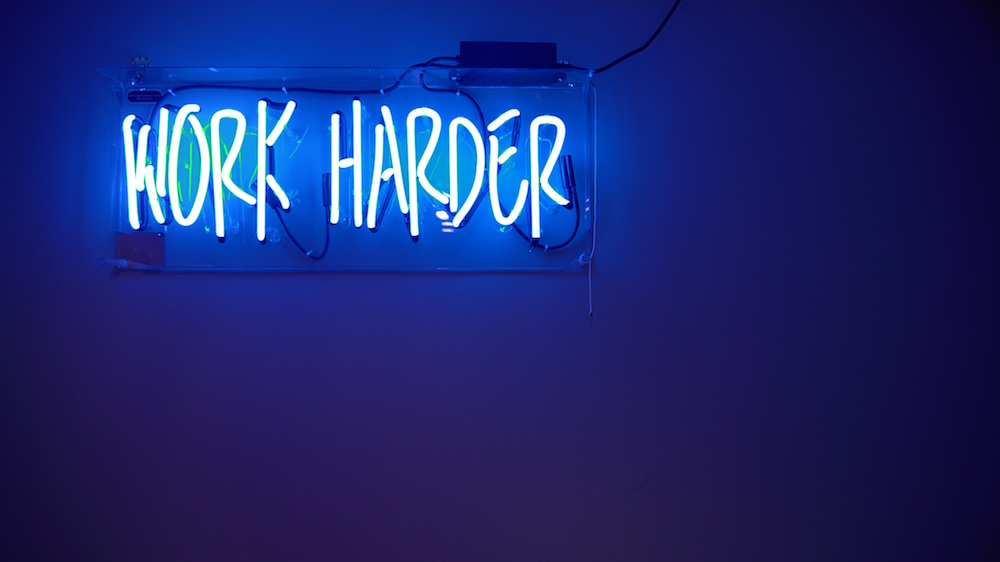 Every month I write a personal review. I look back at the goals I had for the previous month, and reflect on how I spent my time. Whenever I notice that I didn't complete all my goals, my first reaction is to think I should have spent more time working.
More hours is the obvious answer to work left undone, or mediocre results.
But the obvious answer isn't always the right one.
It can be effective sometimes to dig a little deeper. In the case of our work performance, it's often the way we're working that needs to change, rather than how much.
These two rules are completely different, but both employ a mindset of 80/20—where we mostly do one thing, but leave a little wiggle room for something else. Rather than an all-or-nothing approach, 80/20 rules accept that life never works out exactly as we think it will, and we can rarely do what we planned 100% of the time.
As entrepreneur Scott H. Young says, "…plans are simple and reality is complex."
If you think you need to work more hours, try applying these principles first, to ensure you're working on the right things at the right times.
Use the Pareto Principle to focus on the right things
You might already know about the Pareto Principle, which says in essence that in most situations, 20% of the input determines 80% of the output.
The principle first came about when the Italian economist Vilfredo Pareto noticed in 1897 that 80% of the land in England was owned by 20% of the country's residents. He later found the same was true in most countries.
More recently we've been applying the Pareto Principle to any aspect of life we can.
In terms of our work, the Pareto Principle can be a handy reminder of how important it is to identify your most effective work and focus most of your time on doing those things. If you currently spend 80% of your time on work that only has a 20% effect on your results, imagine how much more successful you could be if you spent 80% of your time on the 20% of work that has an 80% affect on your results.
Let's take an example to make this more concrete. Say you're a software developer. You spend 20% of your time on writing code for new features or major improvements. The other 80% of your time is taken up with user support, meetings, email threads from your colleagues, planning, fixing bugs, or training new developers.
Here's where the practical aspects of the Pareto Principle come into play. Working through that list of the work you spend 80% of your time on, you'd first cut anything you get away with not doing at all. Then you'd delegate anything someone else can do (and is happy to take on). Finally, being a software developer, you'd look for ways to make the work that's left more efficient, so it takes up less of your time.
For example, maybe you could:
Cut your meetings so you're only going to a maximum of two per week, instead of 6-8
Handle emails in time blocks, so they don't interrupt you during focused work time
Write up common questions and answers for colleagues or users, to cut down on email load
Once you've tried to delete, delegate, automate, or otherwise improve the efficiency of all your 80% work, you may be looking at a more healthy ratio of busy work to important work. Even if you only got the ratio to 50/50, imagine how much more effective you'd be if you spent 50% of your time on your most important work.
Keep 20% in the tank so you don't burn out
Once you know you're working on the right things, figuring out when to work, and how much is just as important.
Many of us fall into the trap of thinking working more is the answer to being more effective at work. But working more isn't always a good thing. Our energy naturally peaks and dips throughout the day, especially after we've been working for long periods, and pushing through those dips can make our work worse.
One study of airplane pilots tested how having a short nap mid-flight affected their performance. One group of pilots had a 40-minute nap period mid-flight, with an average of 26 actual minutes of sleep. The other pilots didn't nap at all, but continued working through the whole flight.
For those who did take a nap, their response times improved after sleeping compared to those who didn't sleep. The non-sleepers also tended to take several micro sleeps throughout the last half hour of the flight, whereas the nappers didn't micro sleep at all.
According to Tony Schwartz, author of Be Excellent at Anything, knowing we can't rest during the workday but are expected to be working constantly for eight hours or so means we try to pace the use of our energy throughout the day. We give around 25% of our energy during the day, always worrying that we'll burn out and not be able to rest and recover.
But Schwartz says we'd be better off having built-in rest periods so we could feel comfortable giving 90% of our energy in short bursts—during our most productive hours, and on our most important work.
This, says Schwartz, is how we can deliver our best work.
Of course, there's an opposite extreme to not giving all our energy at work—giving too much. Entrepreneur Justin Jackson found out the hard way that giving your all at work without building in time to rest and recover is dangerous.
With side projects, work, study, his own company, and family to juggle, Jackson was overworked and exhausted. "For years," he says, "I would go to the office in the morning, and spend every ounce of creative energy that I had."
I loved the busyness. I was firing on all cylinders. Spinning all these plates in the air. The world was my oyster!
That is, until it all came crashing down. Jackson's business fell apart, and the crisis threw him for a loop. "The problem with being maxed out," says Jackson, "is you can't deal with anything new. I couldn't fit anything else in. I'd squeezed my schedule, my finances, my energy, and my family to the absolute limit."
Jackson realised his mistake was not building in any time to recover from giving his all—he just gave, constantly, and had no balance in his life.
Schwartz wants us to be able to give our all at work, but he understands the need for balance, too. We need to build-in periods of rest and recovery to be able to give our all in small doses.
Jackson's strategy for not becoming overwhelmed is to aim for 20% energy left in the tank when he leaves the office. This isn't something he can measure, but he says simply being mindful helps him ensure he never pushes so hard he won't have anything left to give when he gets home.
He might not be giving 110% anymore, but Jackson says this approach is helping him do his best work without risking burnout, and leaves him space for crisis, just in case.
---
There's no getting past the fact that we have to put in the time to get better at what we do. But time is not always the defining factor for how successful we are at work. The way we spend that time is often just as important—if not more so.
Belle Beth Cooper is an iOS developer, writer, and co-founder of Melbourne startup, Hello Code.