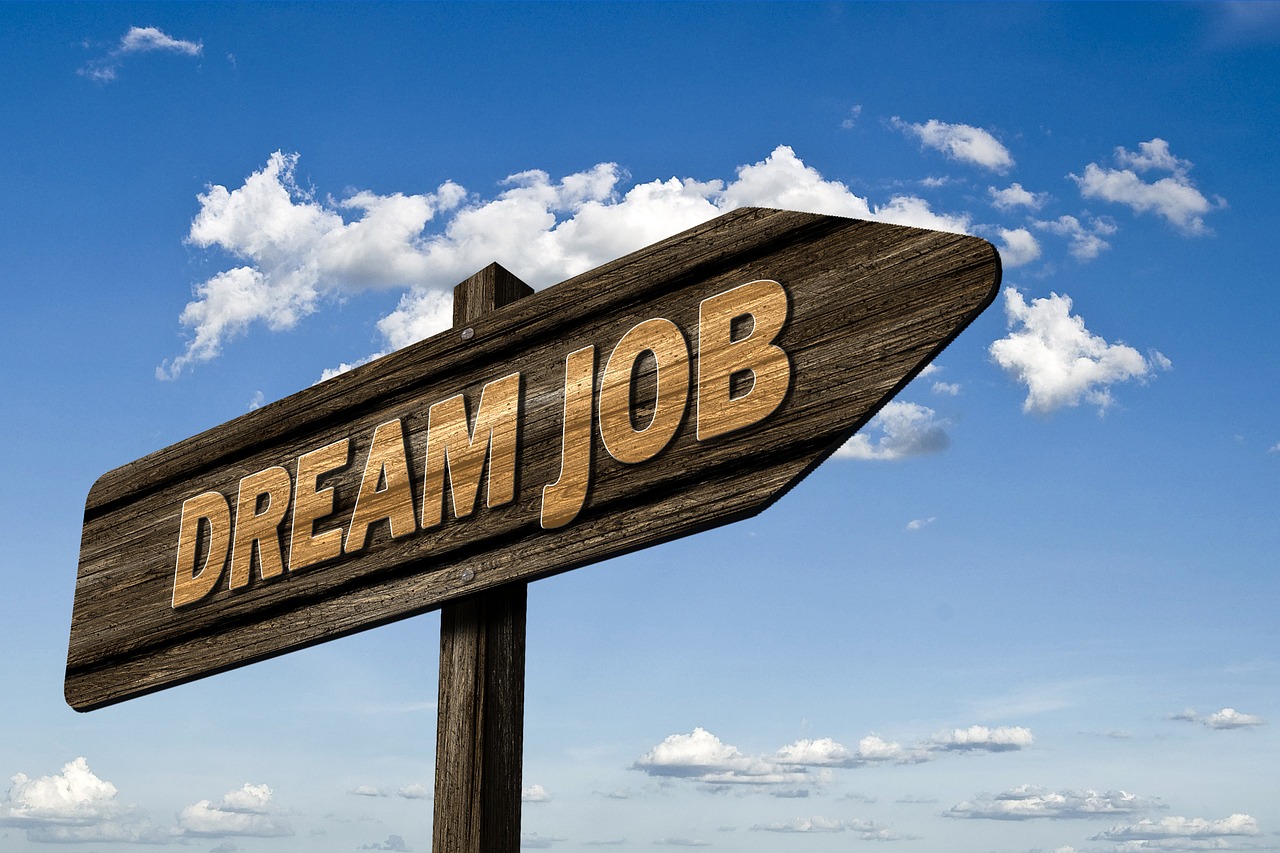 Ever felt let down and defeated after applying to a bunch of jobs and not hearing back? We see applications every day from potentially great candidates who make similar mistakes over and over because they're simply not getting the basics of applying to a job right. We'd like to ensure you don't make those same mistakes!
What many applicants don't realise is that hiring at seed and early stage startups is often done by the founders. These people have even less time than to read your application than a hiring manager or recruiter in a bigger company might.
Your task is not only to stand out from the crowd and convince them you are qualified, but also to make your application as easy as possible to digest.
We're not here to tell you to create funny video applications or infographic CVs, work for free, or advertise yourself on Facebook. We're showing you four basic rules for applying to any job. We guarantee that if you follow these rules, you'll get more interviews and ultimately the job that you want.
RULE 1: Spend at least 20 minutes on each application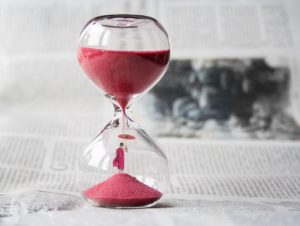 Slow down. If you're spending less than twenty minutes on an application, you're probably rushing it. Here's what you should be doing for every application:
Reading the job description
Re-reading job description
Researching the company, team and their current focus/projects – Do you know anyone there? How does your experience/interests relate to this opportunity?
Modifying/tweaking your CV to map your experience to the requirements
Checking for any specific application instructions
Writing a cover letter (making sure to focus on your qualities and accomplishments that fit the job description)
Re-reading your cover letter – simple spelling mistakes are a major mood killer!
Making a note of the date you sent your application (for follow up purposes)
RULE 2: Write a cover letter individually for each and every application
The cover letter is arguably more important than your CV. If it's not good, your CV may not even be looked at. It's also an interview of sorts for a basic workplace skill – sending email. This is your chance to show that you are good at it.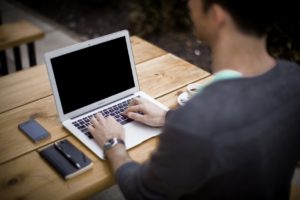 A good cover letter should:
Introduce yourself and contextualise your application.
Demonstrate your potential value to the company. Specifically what can you offer them.
Demonstrate you're a cultural match.
Follow any instructions in the job description.
NOT be a repetition of the contents of your CV – instead it should provide additional information and highlight key points relevant to this role.
Be obviously written specifically for this job (not copy and pasted).
Be specific.
Direct the reader to further information about you (CV, portfolio, links etc).
Show some personality – tell a story or link to your personal twitter (if appropriate). You want the reader to like you.
Be concise – demonstrating your ability to communicate.
Let them know when you're available to start.
Finish with a "call to action".
Generate a curiosity gap and convince the reader that you just might be the one and they should definitely open your CV and follow up with you.
How to start a cover letter?
"To whom it may concern" and "Dear Sir/Madam" are both relics from the days when cover letters were actual letters. These are probably too formal for an email to a startup. Take a look at the team page of the company website and take a guess at who deals with the HR. Address it to them.
Begin as you would a normal email to anyone. A simple "Hi [Name]" is fine. You can always fall back on "Hello [Company Name]". You're probably emailing a generic mailbox like jobs@ so immediately state the position you're applying for.
How long should a cover letter be?
Many guides suggest that you write long, descriptive cover letters – this often results in boring essays about yourself that no one has the time to read. Try to be as short and concise as possible – research shows these emails are more likely to elicit responses. It's okay to go into detail about why you are a good match, if you're sure you're not waffling. Otherwise, focus on really nailing around five or six key sentences (not paragraphs). That should be enough.
Finishing a cover letter with a strong call to action.
Always finish with a strong call to action. This might change depending on what you know about the application process. You can try the following:
State your availability for a potential interview (get specific on dates/times).
Ask what the next step in the process is.
State your follow up procedure, for instance "I'll follow up with a call next Wednesday. Or, you can reach me immediately on my mobile phone at [insert number]."
Cover letter example
Hello James,
I'm applying for the role of [ROLE] with [COMPANY].
I first came across [COMPANY] when researching [XYZ] and became a daily reader of your blog before becoming a customer. I've always been impressed by how your team handles [X]; now I want to impress your customers in the same way your team has so graciously done for me.
I have [X] years of experience doing [SOMETHING SPECIFIC FROM THE REQUIREMENTS OF THE JOB DESCRIPTION] which means I am confident I can make an impact and deliver [SOMETHING SPECIFIC] within my first two months.
I've attached my CV and you can take a look at my [WEBSITE LINK] here. I also tweet occasionally here [LINK TO TWITTER].
If you'd like, I'm free for a chat on Tuesday and Friday this week at 10:00am. Let me know if either of those work for you.
Thanks,
[Name]
If you ignore this and refuse to write a proper Cover Letter, at least write some kind of note with your application. There is a human on the other end of that apply button and it's rude to just chuck your CV at someone without introducing yourself first. However awesome your CV might be, an empty email with an attachment makes a pretty stale first impression.
RULE 3: Attach your CV as a PDF and make it one page
Export your CV from your word processor as a PDF – include your name in the file name rather than just calling it CV.pdf. If you don't know how to make a PDF, here are instructions for word and pages. A PDF is more professional and means the formatting can't be lost. You're sending a document which represents you as a person and it needs to feel like a finished product. An editable word document does not.
Your CV should fit onto one side of A4. Being strict about this forces you to think carefully about what to include and exclude. Spend some serious time on this – even in a world with online CVs, portfolios, and LinkedIn profiles, it is incredibly important to nail the basic CV. As a general rule of thumb, include less detail for things that happened further in the past and more detail for recent experience. Obviously tweak this if required for a specific role to showcase the most relevant bits.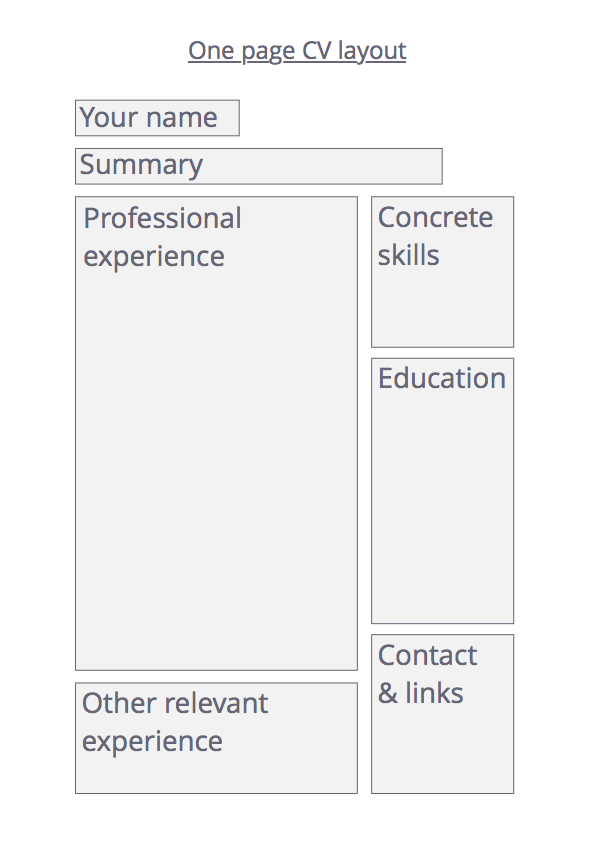 What to include on a one page CV (in rough order)
Your Name
Tagline – 140 characters on you, what you offer and what you're looking for.
Concrete skills (Things you could sell as a freelancer like HTML, copywriting, etc).
Relevant professional experience (titles, dates and bullet point achievements and responsibilities).
Links to projects, profiles and portfolios.
Basic education and qualification details.
Contact details (phone, email, links).
Including links in your cover letter or application makes it easy to find out more about you and move the process beyond emails and attachments.
What to exclude from a one page CV
Languages section (can go in the skills section if relevant).
High school grades.
Irrelevant information about your dissertation/university course.
Lengthy descriptions of jobs that you had years ago.
Completely irrelevant jobs/experience.
Non-concrete skills (Communication, Creativity, Originality etc) – these should come through your cover letter and experience. Show, don't tell.
Your physical address – this can work against you if the employer assumes you live too far away to commute.
RULE 4: Always follow up
This point is so incredibly important. If you don't follow up you might as well not apply in the first place. If you want the job, you should continue to follow up (politely and without being annoying) until you have received a rejection. I've known people to have to follow up seven times before even landing an interview (they went on to get the job).
Remember, at a startup, the person doing the hiring may be responsible for a thousand other tasks at the same time. Following up demonstrates your commitment and will certainly make you stand out from the crowd as most people simply don't bother, don't want to be a pest or are simply too lazy. Following up is a key skill in startup land where things typically don't happen unless YOU make them happen.
Follow up through multiple channels
Applications sometimes end up in the SPAM folder and sometimes a response will end up in your own spam folder (check it regularly when you're job hunting). If you're not getting an answer and you think your message isn't getting through, send follow ups to and from different email addresses, use twitter or send a LinkedIn message.
When and after what period should you follow up a job application?
Keep a list of all the applications you make and record the date you applied. Follow up after 3 days to make sure that someone has received my application. Then, keep the conversation going by clarifying the hiring process and agreeing dates with the hiring manager for when the next contact will be. If the date goes by without contact, follow up again. If a follow up fails, wait another week before trying again.
Judge the situation and never become annoying or desperate. Annoying and desperate people seldom get the job, however, nor do people who don't follow up. Find the sweet spot.
Example follow up messages
Short and sweet is best for follow ups. Ask a specific question and make it easy to reply.
Twitter
"Hi @[COMPANY], just applied to be your new [POSITION] – Looking forward to hearing from you!"
"Hi @[COMPANY], applied last week for the [POSITION] from [EMAIL ADDRESS] – Just wanted to make sure it came through"
Email – 3 days after initial application
Dear [Name],
My name is [NAME], I applied for the position of [POSITION] last week. I want to make sure you received my application successfully. Please do let me know if I can provide you with any further information at this point.
Thanks,
Email – To speed up the process before interview
Hi [Name],
I hope all is well.
I wanted to check on the status of my application, as I'm hoping to solidify my plans over the next few weeks and I'm keen to explore potential opportunities at [COMPANY] before committing to anything else as I'm very much interested.
Do you have a timeline on processing my application?
Best regards,
[Name]
Sometimes, follow up emails can be an opportunity to reinforce your fit for a role. If the company you're applying to is planning a product launch and that's your thing, send through a product launch PR template or some other useful resource that you've made. Show them that you are a person who can deliver.
---
Follow our four rules to increase your chances of getting past the first hurdle of the initial application as swiftly as possible but remember that is just the beginning of your journey to landing the job.
Hung Lee (adviser to startups on hiring) reminds us that "cleverness alone in the application is not sufficient to gain applicants entry to the startup community". His advice to would be entrants to the startup world is to "realise the application process is a just a stage and instead shift the focus to embedding yourself in the digital world in a deeply authentic way".
Remember, we're always here to help so get in touch with questions, concerns, comments, or to let us know you got the job!