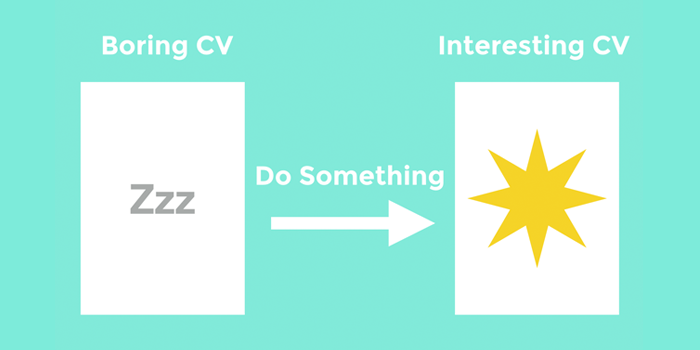 Struggling for interesting and relevant things to put on your CV? Lacking in experience since you haven't had a real job before? The magic trick to solve this problem is to do something. Whilst anyone could do any of the things listed below to stand out, they each require some serious time, energy and thought to do well. If you do invest this time, I guarantee you will not only see results, but also have fun and learn a lot.
Here are eight suggestions:
1. Start writing
Start a blog or write one-off articles. These should ideally be connected to the industry or job function you want to work in. Read up on writing good content and get a friend to check them over before publishing. You can then link to your blog or articles from your CV, Linkedin or Twitter profiles. Not only does it demonstrate real passion but it will also increase your knowledge and expand your network.
2. Go to local meetups
We've written about meetups in London before. Going to local meetups is a great way to network and if you attend one regularly then you should definitely add it to your CV.
3. Start a meetup
If a meetup matching your interests doesn't exist where you are then you could consider starting your own. As an organizer you have to take care or finding a venue, speakers and promotion. You can even charge members a small fee for attendance or find a sponsor by asking around.
4. Use what you've got
You may already have more relevant experience than you think. Go back and dissect your degree or previous jobs from a different perspective. For instance, did your Biology degree also teach you how to make awesome presentations? That's a skill that could be useful in a number of roles. Don't stop there, but back it up with an example slide deck or a link that you have made about a problem in the industry you want to work in.
5. Build a website or an application
Spend some time working on a project you're passionate about. Show off your skills and make a cool application or showcase some of your design work.
6. Take online classes or courses
Enroll and finish some online courses to increase your skill set. Even a graphic design online class that lasts a few hours can open up your world to Photoshop or Illustrator.
7. Attend a conference
Look up the best conferences in your industry and email the organizers. Normal tickets can run into thousands of pounds but there are often places available for volunteers and students.
8. Work for free
We don't encourage companies hiring unpaid interns, however, working for free can be OK as long as you do it on your own terms. If there is a company you want to work for, you could put together a deck of slides on how they could improve their marketing or take advantage of a new channel. You can read Oliver Emberton's post here about working for free to secure his first clients.
These are just a few examples of what you can do to make your CV more exciting that just your degree, uni involvement, and an internship. Remember, having relevant experience in any of the above ways and showing what you're working on right now looks amazing to potential employers.