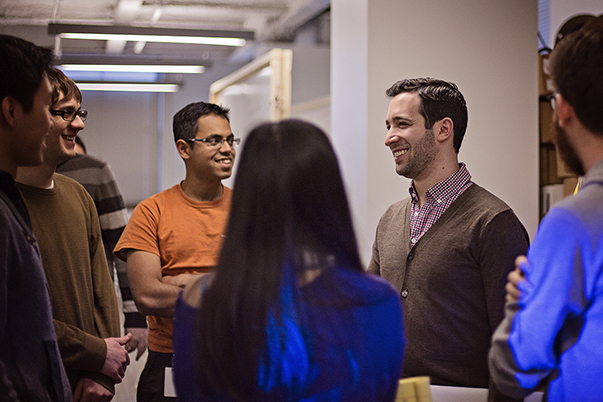 Startup Institute students networking into the startup ecosystem.
About the author: Christine Zimmermann is the content manager at Startup Institute, a career accelerator that helps individuals develop the skills, mindset, and network to get jobs at startups and thrive in high-growth careers. 
It's no secret that networking is key to finding the jobs that aren't advertised. According to a 2011 article by Forbes, 41% of new jobs in 2010 were resulting from networking efforts. Whether you're hunting for a new opportunity, developing connections to support your current business, or building rainy day insurance, it's smart to nurture your network.
Let's get one thing completely clear: good networking is about quality, not quantity. Everyone's fallen victim to the person with chronic "Business Card-Hand." It's a brief, but painful affliction– already onto the next unexpectant mingler before you even have a chance to get a word in. Like any relationship, a strong professional relationship should be mutually-beneficial.
Good networkers ask good questions, listen for responses, and allow those responses to drive conversation forward in meaningful ways. These tactful questions can help you dig a little deeper:
How did you hear about this event?
This question makes for an excellent ice-breaker– helping you to establish connections to the event-organiser, or uncover ways that you may be able to relate. Perhaps they learned about it through another professional group that would be of interest to you, or maybe they tagged-along with a colleague who's also there circulating the room (now you can get a warm-introduction!). Whatever the outcome, you'll generate fodder for developing discussion.
What do you like most about what you do?
This question is, of course, meant to follow the stale and much-less-inspiring query: "what do you do?" This can take many forms, such as "what is the most exciting thing you're working on right now?" or, more specifically, "how do you like [this very specific component of that work]?" The point is to show genuine curiosity by pressing for further details, rather than falling silent and waiting for the other person to drive the conversation.
Your work seems quite [interesting, unique, impressive, etc.]. I'd love to help. What types of people can I connect you with?
In her book Your Network is Your Net Worth, Porter Gale, former VP of Marketing for Virgin Atlantic, expresses a maxim for best practice networking– "give, give, get." Through this slogan, Gale implores readers to focus on bringing value to their connections. In centering your efforts on giving, rather than taking, you'll cultivate more meaningful professional relationships, which will in turn be more fulfilling for you. As you network, ask questions that explore how you can help. Your generosity is sure to make an impression, and your new connection will be much more likely to want to follow-up with you after the event.
Have you been to other good events lately?
Much like question #1, this question can springboard into topics that will help you to get to know them beyond the business card. Similarly, don't be afraid to ask your connection about extracurriculars– there's no shame in steering conversation away from work, and many might find this a refreshing change-of-pace. Furthermore, take note of positive reviews to update your own calendar with new and interesting options.
Are you interested in getting coffee next week? I'd love to learn more about _____________.
Good networkers follow-up the next day with an email or LinkedIn connection; great networkers walk away from the introduction with clear next steps. Articulate exactly what it is that piqued your interest; maybe you want advice on how to learn a skill that they possess, or you'd like to discuss opportunities to get involved in a cause they support– this will make this person better inclined to accept your invitation.
The value of a network is not equal to the number of cards in your rolodex. Strive to learn about your new connection and listen for ways to deepen the relationship. Most importantly, be gracious in your follow-up– you never know what role this connection may someday play in your life.
For more expert networking tips, download our free guide to career change.